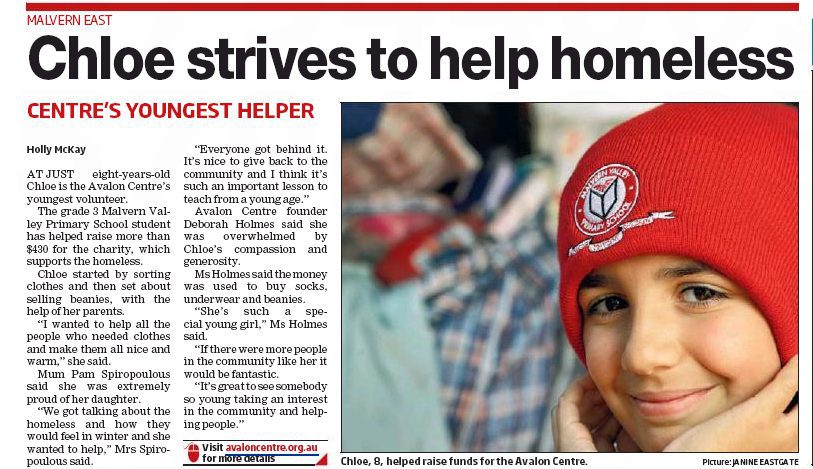 Avalon Centre's youngest helper
Article written by Holly McKay
At just eight-years-old Chloe is the Avalon Centre's youngest volunteer.
The grade 3 Malvern Primary School student has helped raise more than $430 for the charity, which supports the homeless.
Chloe started by sorting clothes and then set about selling beanies with the help of her parents.
"I wanted to help all of the people who needed clothes and make them all nice and warm," she said.
Mum Pam Spiropoulous said she was extremely proud of her daughter. "We got talking about the homeless and how they would feel in winter and she wanted to help," Mrs Spiropoulous said.
"Everyone got behind it. It's nice to give back to the community and I think it's such an important lesson to teach from a young age."
Avalon Centre founder Deborah Holmes said she was overwhelmed by Chloe's compassion and generosity.
Ms Holmes said the money was used to buy socks, underwear and beanies.
"She's such a special young girl," Ms Holmes said.
"If there were more people in the community like her it would be fantastic.
"It's great to see somebody so young taking an interest in the community and helping people."